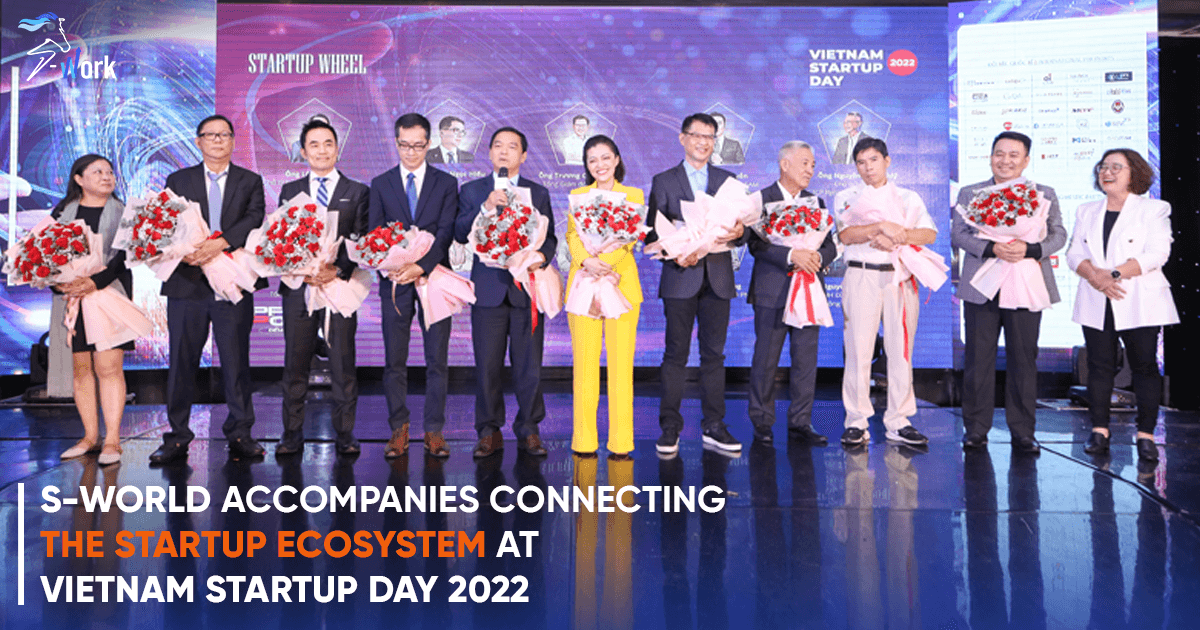 S-World accompanies connecting the startup ecosystem at Vietnam Startup Day 2022

Vietnam Startup Day 2022 – An event to bring the startup community together

Vietnam Startup Day is regarded as an annual event for the country's and Southeast Asia's startup ecosystems. The event includes an exhibition to showcase and introduce technology from the regional innovation startup community, as well as a "Startup Wheel" competition to select more than 100 projects from Vietnam and around the world.

On August 25 and 26, at Riverside Palace Convention Centre, within the framework of Startup Wheel 2022, the Business Startup Support Centre (BSSC) and Investment and Business Partners (IBP Vietnam)- Vietnam successfully organised Vietnam Startup Day 2022, the largest annual event connecting elements in the Vietnamese startup ecosystem and region.

BSSC chose the program's theme as "Tipping Point", reflecting the organization's 10-year journey and highlighting the fact that startups seeking success must identify their own "Tipping Point". To face the new waves of development, startup businesses must be well-prepared in order not to miss out on any opportunities to carry out their purposes to the best of their abilities.

Impressive numbers of Vietnam Startup Day 2022

This is the tenth year that BSSC has organised Vietnam Startup Day in order to create a platform to connect elements in the startup ecosystem, attracting participation from business incubators and business associations, large enterprises, and domestic and foreign investors oriented support for startups in the country.

The event also welcomed over 150 Vietnamese and international startups, 15,000 visitors, and over 500 investors, investment funds, entrepreneurs, and experts from Vietnamese and international startup support organisations.

Besides, Vietnam Startup Day also had leaders of large enterprises in Vietnam such as Tran Le Nguyen – CEO of KIDO Group, Nguyen Thanh My – Chairman of My Lan Group, Le Viet Hai – Chairman of Hoa Binh Construction Group, Nguyen Duc Tai – Chairman of MWG Group, Nguyen Ba Diep – Vice Chairman of MoMo, Thieu Phuong Nam – General Director of Qualcomm Indochina, Le Tri Thong – Vice Chairman and CEO of PNJ, Truong Ly Hoang Phi – Chairwoman and CEO of IBP.

S-World accompanies connecting the startup ecosystem at Vietnam Startup Day 2022

In this year, S-World is very delighted to be a media partner, contributing to promote the Startup Wheel or Vietnam Startup Day 2022the units and sponsors assisting the startup community, Vietnamese businesses, and the international community in constructing a startup linking ecosystem. Many S-World's outstanding achievements can be mentioned such as: Spreading awareness of events on 100+ famous newspapers like Cafebiz, Tuoi Tre, Nhip cau dau tu,… after 3 days.

The success of Vietnam Startup Day 2022 has inspired the startup community to be greatly motivated in their pursuit of new values. Being a part of an international-scale event and contributing to the development of the Vietnamese Startup community is a great honour for S-World in its mission to connect Vietnam and the "world." Hopefully, S-World will have more opportunities to accompany BSSC and IBP Vietnam in many other meaningful programs in the future.