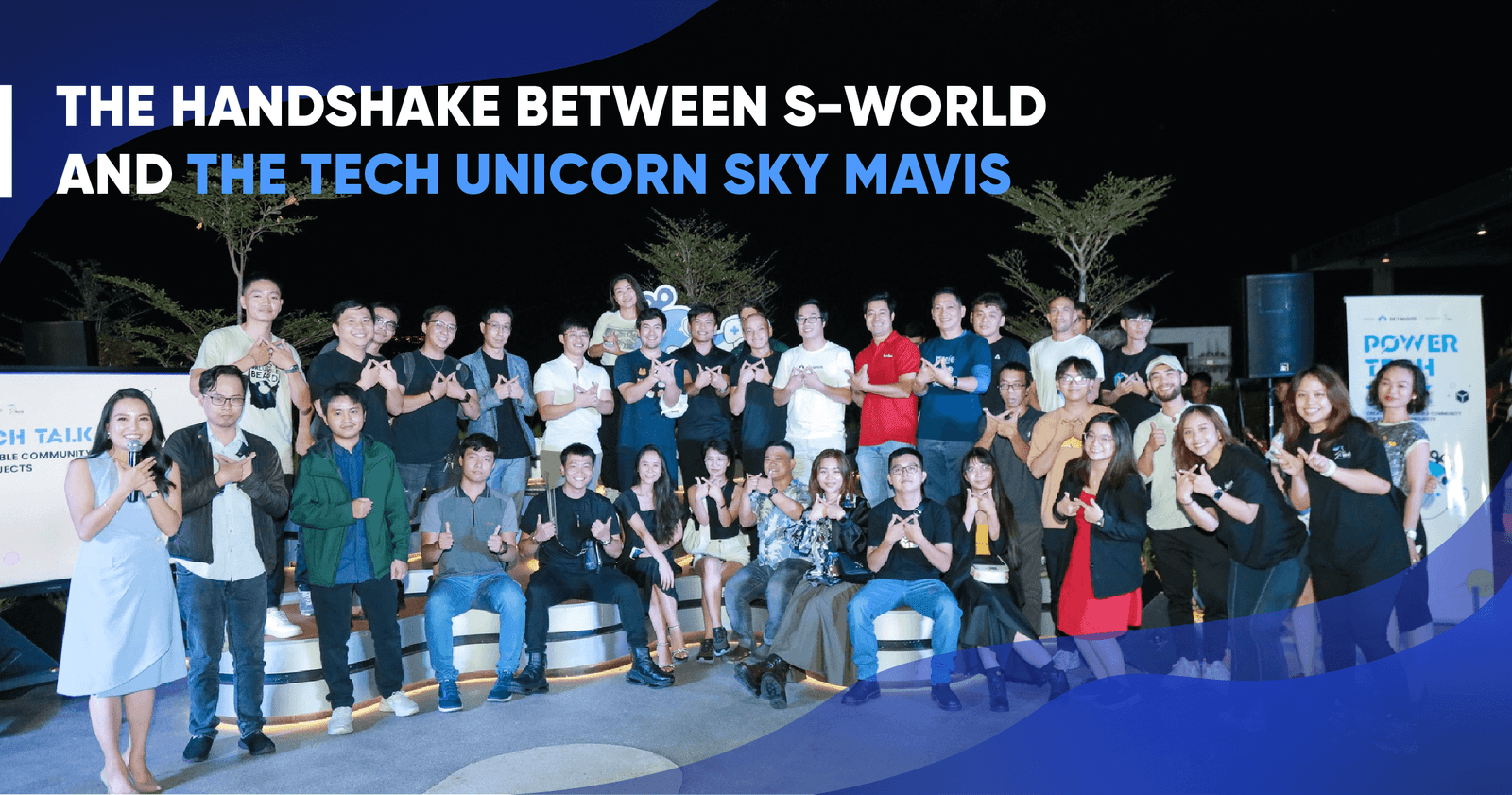 Tech unicorn Sky Mavis and S-World collaborated to organize the event for blockchain technology community development

Sharing at the Power Tech Talk event, leaders of Vietnamese-founded global blockchain technology companies such as Sky Mavis, Coin98 Finance and Kyber Network affirm that the community must be maintained by communicating values effectively, honestly and openly both online and in person. Community factor is also highlighted in the decision of investors such as Ascend Vietnam Ventures and 500 Startups Vietnam.

Power Tech Talk Series – Sky Mavis' series of events bringing together leaders in the blockchain industry from Sky Mavis.


Power Tech Talk is a monthly series of networking and discussion events with leaders, experts in technology, and community development. The event series is hosted by Sky Mavis, the developer of the globally famous game Axie Infinity.
The series aims to create a forum for the blockchain technology community to exchange and connect more closely and frequently. Furthermore, Sky Mavis is excited to share their knowledge with the audience, solve blockchain technology problems, and collaborate on future projects.

As a result, S-World teamed up with Sky Mavis to host a series of monthly Power Tech Talk events, therefore connecting, building, and expanding the Blockchain community in Vietnam and beyond.

Power Tech Talk 1 and the question of long-term community development in Blockchain projects

Power Tech Talk 1 with the topic of "Sustainable community development for Blockchain projects" was held successfully at Sky Mavis Vietnam office on November 11th 2022. The event aims to solve the most intriguing problem in the Blockchain field today: How to increase engagement, connection, and expansion of blockchain communities – One of the most crucial factors related to the development and sustainability of projects in the field.

The event featured co-founders from Coin 98 Finance, Kyber Network, and Sky Mavis, international technology companies founded by Vietnamese people, as well as more than 50 guests from Web3, digital technology, investors, and the blockchain community at large.

The 3 main contents shared during the event include:
– Keynote 1: "The Community's Role in Blockchain Projects: An Investor's Perspective" Mr. Eddie Thai – Ascend Vietnam Ventures & 500 Startups Director Vietnam
– Keynote 2: "Disruptive User Growth – A Story from Axie Infinity," with Jeffrey Zirlin, Co-Founder and Chief Growth Officer, Sky Mavis.
– Panel discussion "Strategies for community development for Blockchain projects" by Tran Huy Vu, CEO of Kyber Network, Le Thanh, Co-Founder of Coin98 Finance, and Jeffrey Zirlin, Co-Founder and Chief Growth Officer of Sky Mavis. Nguyen Thanh Trung – Co-Founder & CEO Sky Mavis first appeared as leading this discussion.

S-World is honored to have been entrusted with organizing this series of events with such a fascinating topic. And don't forget to follow Sky Mavis and S-World in the near future to review the impressive supdate.