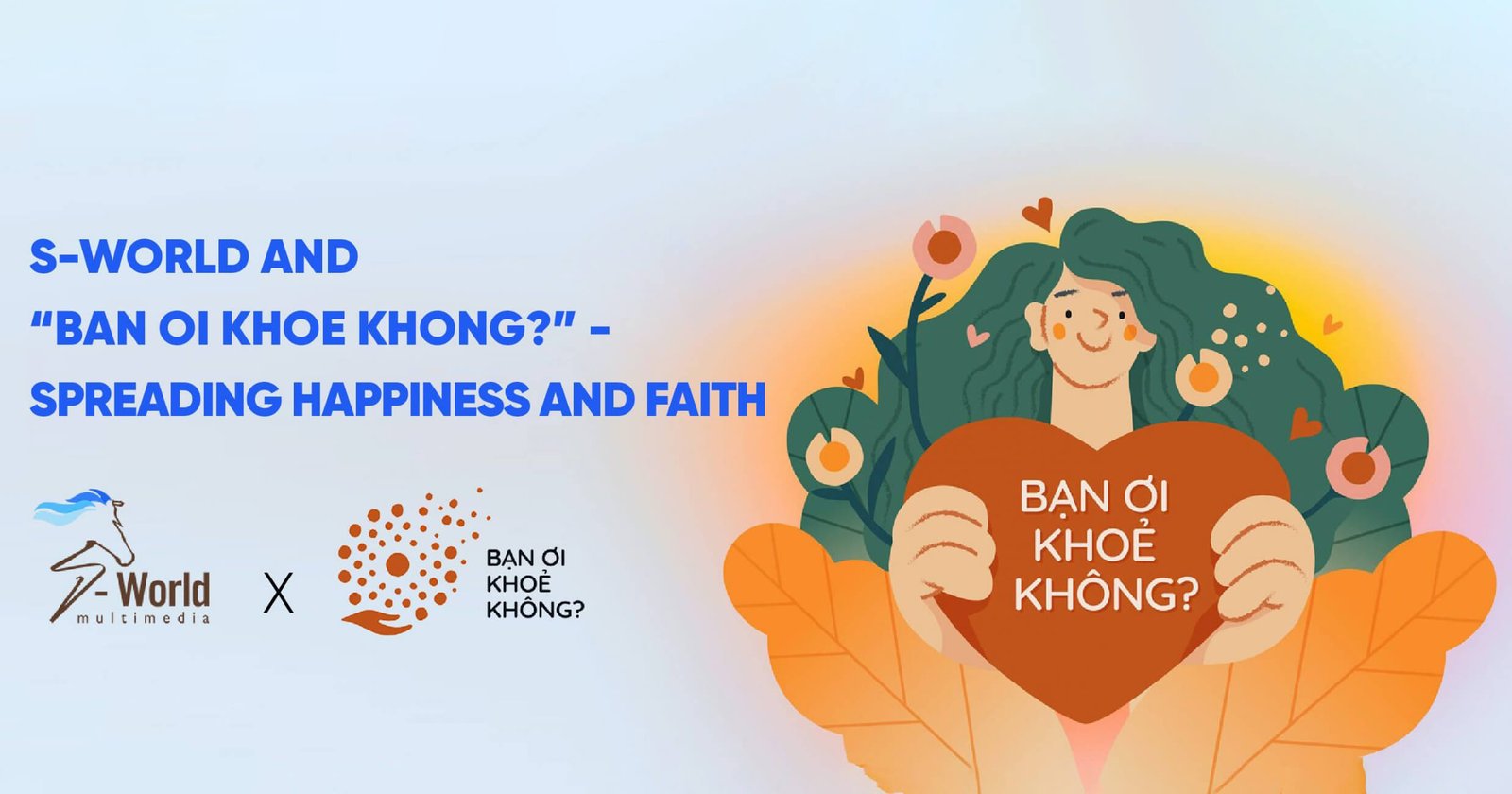 CSR communication projects:S-World and "Ban oi khoe khong?" – spreading happiness and faith | 2021

CSR communication projects

In any business, not only do leaders and managers play the role of a "captain" to develop the business, but they are also a booster of morale for employees. The Covid-19 pandemic brought about a series of crises and detrimental long-lasting effects. It made everyone realize the importance of mental health, especially employees at businesses. When countless disturbances in the living/working environment have significantly reduced the peace of mind of each person, it has essentially become a basic necessity.

Project "Ban oi khoe khong?" and the seminar "The power of faith in a volatile time

The project "Ban oi khoe khong?" (translated as "How are you?") was jointly implemented by One Life Connection, Kambria, Vietnam Angel Network, Dentsu Redder, TechAble, S-World and many other volunteers in 2021.

"Ban oi khoe khong?" was a non-profit project with the aim of connecting a team of experts in the field of physical and mental health to work together for a healthy and stable Vietnam to overcome the pandemic. The project was jointly implemented by One Life Connection, Kambria, Vietnam Angel Network, Dentsu Redder, TechAble, S-World and many other volunteers.

"The power of trust in a volatile time" was one of the prominent activities in the project. It attracted over 900 people to participate and nearly 400 interactions. S-World is very happy to have been able to assist in this community project as communications assistant, working together for a strong Vietnam to overcome the pandemic. The seminar "The power of faith in volatility" was organized as part of "How are you?", with the participation of host Vu Duy Thuc and 5 speakers:

Speaker Nguyen Phi Van – Franchise Expert, Entrepreneur & Investor

Speaker Nguyen Hoanh Tien – CEO of Seedcom

Speaker Nguyen An Nguyen – Founder & CEO of Trusting Social

Speaker Le Hoang Anh – Founder & CEO of EcoTruck

Speaker Duong Mai Anh – Founder & CEO of Ting

Positive messages sent to the community

During the seminar, the speakers brought positive messages to the community such as:

Measure between effort and results

In one's career, take some time to observe and measure, when you feel that efforts and results do not correlate with each other, it is time to stop, learn to improve, and recover. Do not force yourself too much, because it will result in negative counteractions.

Remove the outside gauge

Humans are naturally bound by many issues and concerns from the relationships around us. Once we solve our own problems, we will be able to solve the problems around us as well. Learn how to let yourself be free, and happiness will be the way to success in the most favorable and satisfying way.

Explore each person's database

Each person is born with an integrated database, from regulations from society, predecessors… that he himself does not have the right to choose from. These are the things that are suppressing, holding us back. We need to be aware of the existence of these constraints in order to find ways to remove and destroy unrealistic standards.

Happiness does not exclude success

Your happiness is not dependent on the world, as happiness comes from within each of us. You have a happy mind, which in turn will create different visions, different ways of treating the world. The world will also treat you very differently from there. Happiness does not exclude success in life. Nurturing your mind and body is the path to true happiness.

The growth of a business depends on the happiness of its leader

The happiness level of the organization is measured by the happiness level of the leader. Leaders therefore need to nurture their own happiness so that they can spread to those around them.

Unity creates strength

When Covid-19 happened, we saw the role of collective consensus. It is the consensus that will lead businesses to overcome difficult times together. Connection and support will create great strength of the business.

In addition, the 5 speakers also gave some suggestions for businesses so that working from home is no longer distant.

Organize coaching sessions for employees to learn more values

Organize collective activities: gym, meditation, intimate talks

Call to hear each other's voices more

Use technology applications to create close-knit workspaces

The pandemic is ultimately something none of us wanted, but see it as an opportunity to rethink ourselves and the things around us. We can learn how to cultivate the seeds of happiness inside each person, so that we can spread positive energies to the collective, the community and overcome the crisis together.

S-World would like to invite you to review the sharing session here to gain more confidence, motivation and improve yourself more and more. Hopefully, through the close sharing from the speakers, each of us will have more energy and peace of mind to continue our journey with the best of spirits.