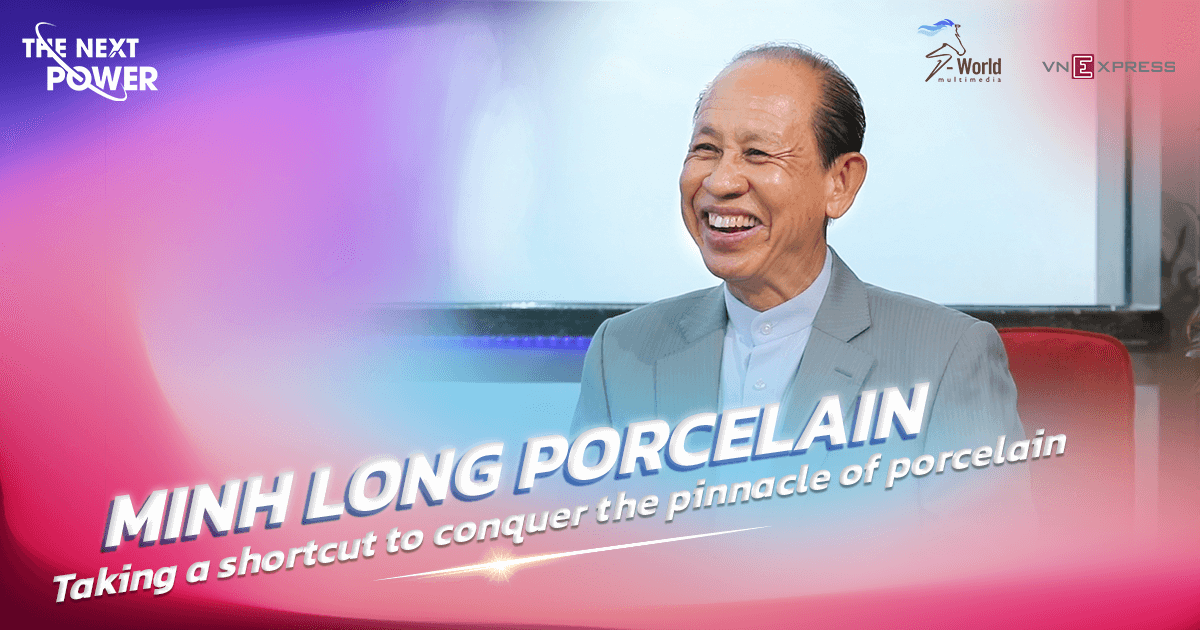 #02 | Minh Long Porcelain – Taking a shortcut to conquer the pinnacle of porcelain

Inheriting the four-generation pottery tradition of the Ly family, Minh Long Porcelain is famed greatly for setting a world record for high-grade ceramics that can withstand heat up to 1,380 degrees Celsius, meeting European standards with the Single Firing Pottery method in 20 hours. But the most important innovation revolution, which took more than 14 years of People's Artisan Ly Ngoc Minh, was the revolution of macrobiotics – conquering the pinnacle of porcelain to protect customer health.

Following the success of episode 1 of "The Next Power Talkshow" produced by S-World and VnExpress enewspaper, and hosted by "shark" Truong Ly Hoang Phi – Vice Chairwoman of Ho Chi Minh City Young Entrepreneurs Association and former CEO of Vintech City (Vingroup), Founder cum Chairwoman and CEO of IBP and Mr. Le Tri Thong – Vice Chairman and CEO of Phu Nhuan Jewelry Joint Stock Company (PNJ), episode 2 broadcasted on May 19 has brought the audience closer to the enduring innovation journey from "peak" to "higher peak" from Ly Ngoc Minh, who is known as"Vietnam's porcelain king". Currently, he is the Chairman and General Director of Minh Long I Co., Ltd. (Binh Duong province).

The story of taking a shortcut to innovate and conquer the pinnacle of porcelain" by artisan Ly Ngoc Minh on episode 2 of The Next Power talk show has been widely publicized on 8 different platforms of VnExpress.net and S-World and spread over 15 articles from reputable economic newspapers such as Cafe F, Cafe Biz, Economic Life, The Leader…

The "revolutions" Minh Long that made changes in 50 years

Established in 1970, Minh Long I Co., Ltd. is the successor of the Ly family's four-generation pottery tradition (the grandfather of Ly Ngoc Minh) with a heritage of more than 100 years. At that time, Minh Long started from producing fine art ceramics for export to foreign countries, after 1995, this business turned to producing high-class household porcelain.
Although he is fondly called by the "king" of a traditional profession with a long history of development, Mr. Minh only considers himself an enthusiast, with a love for ceramics and porcelain from an early age.
"Personally, I think the title of ceramic lover is the most appropriate. Because talking about the word "king" is too great", Mr. Minh said.

Sharing about the remarkable milestones of Minh Long, Mr. Minh said that there were 3 major revolutions which changed the business since its establishment. Firstly, that was when he was about 16 or 17 years old, becoming the owner of the business. That was the time when the little boy was still daydreaming and burying his head in research, but since he didn't have enough resources, he had to stop.
Second, when Mr. Minh heard the story of the central leader – Mr. Do Muoi, he said that Binh Duong was a province of ceramics, so it was possible to produce teapots to receive guests, without the need to import. Mr. Ly Ngoc Minh recalled his childhood dream and once again determined to pursue a career in ceramics.
Finally, there was a revolution in the application of modern machines, automation lines and the latest production technology in the world to create breakthrough products like today. It is necessary to mention the technology of producing high-class ceramics at a temperature of 1,380 degrees Celsius, meeting European standards with Single Firing Pottery method.

With this technology, Minh Long Company is considered to be the first enterprise in the world to perform one-time firing at a temperature of 1,380 degrees Celsius (according to Mr. Dietmar Preibinger, former director of Rosenthal – a famous German porcelain company) (Source: Binh Duong Newspaper). Once baking at a temperature of 1,380 degrees Celsius, the product has a hard, firm glaze, high gloss, less dust, and does not contain harmful substances. This is also a unique point of Minh Long high-class porcelain products.

Throughout the process of change and development, Minh Long has witnessed many changes, only the passion and enthusiasm of the "captain" Ly Ngoc Minh remains unchanged.

Shortcut but deep learning – Breaking "obstacles" to innovate

From a passionate person with fanciful dreams when he was a child, now, the head of Minh Long is respectfully called by foreign partners by the name "general engineer". He said that he always learned from the best in every field but studied very deeply to solve problems. Learned from everyday stories to solve "hard problems" in innovation stories.
"I have another way that I don't learn properly, because it takes too long to study and life doesn't allow it, so I applied shortcut learning," he said.
For him, learning is not imitation, not like "a cow that chews grass" but "a silkworm that eats mulberry leaves and produces silk". That is to "digest" what we learn. If you want to be successful, you must deeply understand the "operating principle" of what you want to do.
"It is 50 years from that time, I realized one thing that if young people today want to do that, remember one thing that we have to understand the operating principle of the situation that we are directing to," shared Mr. Minh. "Nature is the best place to learn."
With innovative and breakthrough products, Minh Long needs a long time, through the process of research, testing and improvement for many years to bring a finest product. This poses the problem of how to optimize the time while still achieving the highest efficiency. For example, by applying high-temperature one-time firing technology and many other advanced and breakthrough technologies applied in other production, Minh Long can save maximum costs and help products reach the highest quality.


However, even if machinery, production lines and high technology are imported from abroad, to be compatible with the intended product detail, many factors need to be adjusted. The head of the business will have to spend a lot of time brainstorming to make the right change.

Solving this problem, Minh Long Porcelain has both researched the market to meet customer needs, and had to go ahead to catch up. The "commander" of the innovation revolution shares this business with two criteria in business.

First, the products in the market are always sold with quality that exceeds the expectations of customers. That's why Minh Long Porcelain always brings products that are widely loved in the market such as glasses, water bottles with different styles, mascot product line of the year…
Second, for products that have not yet been produced, always provide what customers dream of. For example, the macrobiotic porcelain is a product that Minh took more than 20 years to perfect and bring to the market.

The macrobiotic porcelain has the differentiating factor of being deep-cooked, boiled without water, which can be fried, roasted, or grilled, aiming to protect health and protect the environment.

Along with the long-time produced product, the innovation process of the enterprise will also take a lot of time. To innovate, the captain Ly Ngoc Minh has found and applied his own solutions and rules. Learn deeply to understand, innovate old things to create new ones, or become pioneers to bring different products.

Overcoming the "obstacle" of businesses while still at the top

Picturing the future of Minh Long Porcelain, Mr. Minh believes that the innovation process will always continue and be endless. He believes that the forerunner is the one who leads, but also shows the followers the path to success. Therefore, young people can not only continue their careers but also create new ones to replace the old ones.
"Porcelain and plastic today are collectively referred to as metamaterials. If I find a way to solve it and I have the knowledge in hand, I will create new things all the time," Mr. Minh added.

One of the big "obstacles" for Minh Long to overcome is that the business is currently one of the leading enterprises in the market, or in other words is on the "top". This position requires the company to have a strong investment in machinery and technology, leading to high costs and difficulty in accessing the market.
Facing these challenges, Mr. Minh believes that it is the driving force for his own creativity and the business's creativity. "We have to find a way to adapt because in the difficult, wisdom emerges, without the difficulty, we cannot be creative."


In episode 2 of The Next Power produced by S-World and VnExpress, hosted by "shark" Truong Ly Hoang Phi – Vice Chairwoman of Ho Chi Minh City Young Entrepreneurs Association and former CEO of Vintech City (Vingroup), Founder cum Chairwoman and CEO of IBP and Le Tri Thong – Vice Chairman cum CEO of Phu Nhuan Jewelry Joint Stock Company (PNJ), Ly Ngoc Minh – Chairman cum CEO of Minh Long I Co., Ltd. (Binh Duong province also sent a message to the audience about his own experiences about the lessons of success.)

For businesses that are on the way to building a career as well as businesses that are continuing, he affirmed that the three factors "learn, ask, practice" are prerequisites to help leaders take off their businesses.