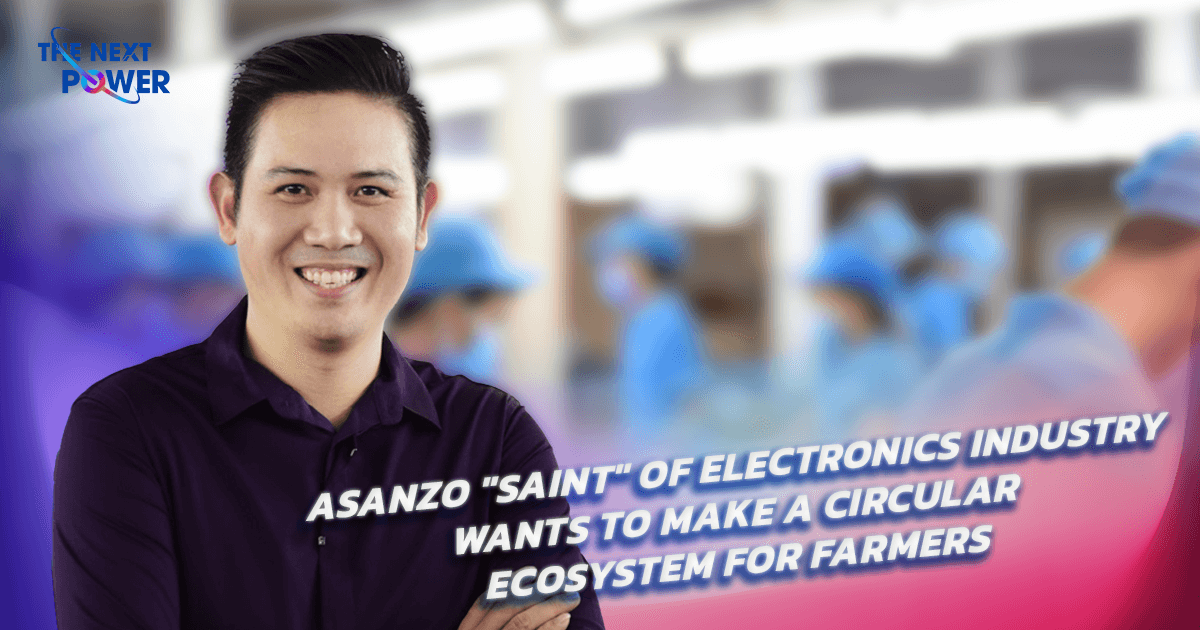 #08 | Chairman of Asanzo Group: Failure is a lesson of sustainable strength

The transformation from electronics manufacturing to agriculture is a unique move from the Asanzo group. What has this business done to move towards this new future step by step?

This week, businessman Pham Van Tam – Chairman of Asanzo Group and guest will share very honest views on the journey to overcome the crisis to innovate to create a new ecosystem.

Chairman of Asanzo Group and the mission to touch the hearts of ordinary customers

The guest speaker of episode 8 is Pham Van Tam, who shared very honest perspectives on the journey to overcome the crisis to innovate to create a new ecosystem.

Pham Van Tam is the founder and chairman of Asanzo Group – an enterprise operating mainly in the field of electronic goods and components manufacturing under the Asanzo brand.

Starting from scratch, he gradually built Asanzo from a newly established, unknown business that quickly became the leading domestic TV manufacturer in Vietnam. In the TV manufacturing industry, Asanzo's market share in 2019 was second only to foreign giants, becoming one of the leading Vietnamese enterprises in this field.

In September 2020, Pham Van Tam established Winsan Group Investment Joint Stock Company (Winsan Group) with a charter capital of VND 300 billion, focusing on financial investment in electronic businesses, In addition, he also officially set foot in the field of Agriculture with Eco-farm and organic fertilizer brand Ba Con Bo.

The motto that the CEO always pursues is "touching the hearts of ordinary customers" He wants to create more quality products at affordable prices so that he can serve more customers in the ordinary market.

Besides, Mr. Pham Van Tam is also an active philanthropist with a series of large and meaningful programs. Initially, charity programs were often associated with football such as donating TVs to nearly 200 poor households and donating water purifiers to schools.

Asanzo's journey from the "saint" of the electronics industry to building an agricultural ecosystem

According to a report by market research company GfK, Asanzo is an electronics corporation with the leading market share in the television segment among domestic brands (16%), just after international giants such as LG, Sony or Samsung. Recently, in episode 8 of The Next Power, the Chairman of Asanzo Group shared the ups and downs in the career path and innovation strategies of his business.

Overcoming crisis with "failure mindset"

Within just three years, the corporation, known as the "saint" of the electronics industry, Asanzo, faced two crises in a row: the battle with the media about the origin of products and the COVID-19 pandemic that caused the market to freeze.

At the first crisis, after the authorities issued notices that Asanzo's activities were "in accordance with regulations", and did not deceive customers, this Vietnamese TV brand gradually returned to the electronics market. Even in the center of the epidemic, the company also invested heavily in a new air-conditioner production line, with a great effort to be self-sufficient in components in the face of scarcity of supply.

"Our business dares to fail to gain new things. Just as an eagle wants to be successful, it must plucking its old, aged feathers to grow, so my business will follow the same direction."- Mr. Tam shared.

Slow down for sustainable change

For Asanzo, the "tuition" that the corporation dares to accept as a trade-off for sustainable change is finance, as long as employees and leaders are willing to change, even have the experiences gained after failure to "lose money but be happy". Mr. Tam believes that despite the loss of  billions or trillions, as long as the business exists, it will still do business and will continue to develop.

This is demonstrated in the past that Asanzo focused on doing what is in the best interests of the business, towards growth, and now focuses on benefits for all 3 parties: employees/workers, customers goods, and businesses.

At some point, Mr. Tam accepted that the business made mistakes and accepted losses to train employees to have "better resistance" when experiencing failures. On the other hand, leaders take the time to share experiences and perspectives from outside businesses, helping employees to have a multi-dimensional understanding of the strong and weak development of the organization in each period.

For customers, Asanzo creates QR Codes to track down the smallest products and assess their impact on consumers, allowing users to directly interact with manufacturers through the "super app". Behind this application is the team in charge of software, a team that specializes in after-sales related to users.

Circular ecosystem for farmers

At the end of 2021, Asanzo announced an investment of VND 2,000 billion in raising cows and making organic fertilizer. This is considered a bold step for a corporation known for its electronic business. Asanzo's Chairman believes that this is a strategy to realize Asanzo's goal of forming a "circular sharing ecosystem": to bring better income to people and from there they use other products of the business.

As someone who has never had farming experience, Mr. Pham Van Tam has spent more than 2 years researching in the farms and at the barns. The company will plan to tear down each region, so that each district will transport food, cows, fertilizer more easily and at a lower cost. Asanzo also establishes fertilizer plants closest to farmers to reduce labor and transportation costs.

For agricultural products, the Group also buys fruits from the source without intermediaries. Instead of exporting to Laos and Cambodia, they concentrated on the South, instead of going through China, they concentrated on the North for convenience, confirming that within 10 hours, products in Asanzo's ecosystem could be exported to anywhere. On the other hand, Mr Tam expressed his enthusiasm to build regional brands for Vietnamese products such as dragon fruits, durians,…

Assessing agriculture is a challenging industry, the Asanzo's Chairman said the group understands that  it takes many years to build trust as well as change people's entrenched agricultural habits, such as about the use of organic fertilizers instead of chemical fertilizers. On the other hand, businesses also have to invest and trade first to pioneer the application of new methods and models for people to follow.

Whether in the field of electronic technology or agriculture, Mr. Pham Van Tam always devotes himself to bringing the best quality products to his customers. Hopefully, Asanzo and Winsan Group will develop more and more, bringing Vietnamese products to the international market.